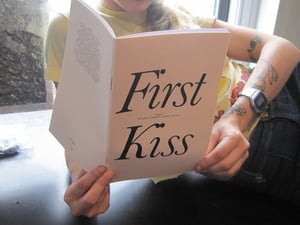 $

5.00
First Kiss is a zine compiled, edited and designed by Marisa Meltzer and Elizabeth Spiridakis.

I wrote something in it.

FK is limited to 800 hand-numbered copies, a dozen of which are available here. Choose from one of four cover colors below.

A complete list of contributors: Carlen Altman, Loulou Androlia, Lesley Arfin, Aurora Armijo, Zach Baron, Sven Barth, Christine Cantera, Jon Caramanica, Kat Clements, April Starr Daniel, Michael Dempster, Jocelin Donahue, Brendan Donnelly, Elisabeth Donnelly, Claire Evans, Sean Fennessey, Hallie Fryd, Julie Gerstein, Tavi Gevinson, Martin Glenn, Emily Gould, Rockwell Harwood, Shayla Hason, Kelley Hoffman, Sunshine Hurlburt, Aya Kanai, Mat Keel, Shelby Keyser, Katy Martineau, Gavin McInnes, Marisa Meltzer, Ashley Merriman, Bayla Metzger, Reza Nader, Leon Neyfakh, Katie Notopoulos, Caitlin Ogilvie, Marianna Ritchey, Yasi Salek, Doree Shafrir, Elisa Sheehan, Isabel Slone, Laura Spinella, Elizabeth Spiridakis, Hunter Stephenson, Louise Sturges, Spencer Tweedy, Jaimie Warren, Fletcher Woolsey, Aviva Yael, Diana Zapata

There is no charge for shipping.